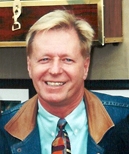 About Michael...
Trainer Profile
Michael Craghead
by David Wise (updated since the original publication)
When I started covering the West Coast shows in 1999, it didn't take long to notice the success of Diamond Hills under the direction of their recently hired trainer, Michael Craghead. I've witnessed the development and success, especially of his young riders, over the years since and he was my choice for the Trainer Profile of my first Louisville issue.
When Michael was young, his cousin, Patricia Blount, had Saddlebreds. He started riding her horses when he was around ten years old. She later sold the Saddlebreds and got into Quarter horses. He rode those, too, but was always more taken with the Saddlebreds. His parents bought him a Saddlebred when he was a freshman in high school which he kept at a walking horse barn, and trained by himself, going around to the one night shows in western and southern Virginia. He showed in Pleasure and Equitation classes. When he went to college, he had horses at Lakeland Stables with Allen and Bobbie Camper in Roanoke. After college Michael worked for Bob and Judy Whitney at their stable in Cox's Creek, Kentucky. They had both Saddlebreds and Morgans at the time, and were very successful in both breeds. "I learned a great deal from them both, not the least of which was their tremendous work ethic. After three or four years at Whitney's, I went to work for Dick Boettcher at various places, including a long stint at Silver Lining Stables in Danville, Kentucky. Dick is a master at turning a horse out and preparing it for others to show."
After several years at Silver Lining Stables, Michael moved home to Roanoke, taking a position at the Hotel Roanoke, which was then owned by the Norfolk Western Railroad. He was the assistant manager there and kept a pleasure mare at Craven's Creek Farm when Lynda Williamson (Freseth) was there. Then for several years, he again had horses at Allen and Bobbie Camper's, including a walk-trot named Royal Flush, a gaited horse named Buck's Fortune, and his favorite horse: a big walk-trot called Rearing To Go. "I enjoyed helping Allen and Bobbie work the horses and helping to get them ready at the shows."
In the late eighties Michael decided a change was in order, so he moved to California. "I was fortunate to meet Rock Walker and Bob Hughes shortly after that. Rock had broken his foot, and they needed help. That turned into a full-time position with them at their stable in Goleta, CA. From there I moved to Burbank, CA and operated a public barn at the Los Angeles Equestrian Center. It was an interesting place to work, with the variety of horses, trainers, and backyard do-it-yourselfers all in one place. There is a lot of walk-in business there, and with the close proximity to studios, several celebrities would drop in. I gave lessons to a few of them including Jean Smart and Richard Thomas' children. Tim O'Brien also rode with Michael in Burbank.
Also during this time, I was privileged to have many wonderful clients." Amy Cordner was eight when she started riding, and she turned into a top equitation rider first with her tough mare, My Happy Moments, and then with the nice mare, Maureen O'Hara, who she showed both in Equitation and Junior Exhibitor Three Gaited. Her mother and dad, Tom and Jeannie Cordner and brother Tommy all enjoyed Amy's successes.
Cecilia Andrews and her daughter Carla were one of Michael's first customers in Burbank and had the sporty Three-Gaited horse, Bart Simpson, which Carla won with all over California in Junior Exhibitor Three-Gaited classes, the nice black Western horse, Jemedar, and the terrific little gaited mare, Our Obsession. After Carla went to college, Bart continued to win in Three-Gaited classes for Guillermo Castaneda and then in Pleasure Classes for Nicole Hallan.
John Sweeney started riding with Michael when he was nine. "As a ten year old, he won just about everything in his age group in Equitation in California with his mare, The Admiral's Queen, and was the World's Champion 10-Year-Old Walk-Trot Rider. Right after Louisville, Bob Hughes called and wondered if I wanted to take John to the Morgan Grand National, and, if so, they had a horse for him to show. John's father, Bill Sweeney, agreed and John wound up winning there, as well, in the Equitation class with Tracy Fietz and Jim Hangley's nice horse, Dancity Sojourn. I believe it was the first time a rider had won in walk-trot equitation at both Louisville and Oklahoma in the same year."
Challen Cates, Karen Waldron's niece, had several nice horses with Michael in Burbank. She showed the pretty walk-trot horse Local Delivery to several wins and had the beautiful little mare, Bridal Dreams, which she showed to many Western Pleasure blue ribbons and was nearly unbeaten in Hunter Country Pleasure classes. Karen sent a gaited mare out for Challen's sister Ayn to show in California, and together Ayn and My Susie Q were a great team.
"The Michael Glick family moved to my barn when Doug and Danielle were kids. Danielle was horse crazy, as is her mom, Carolyn. Both Doug and Danielle have a knack for showing horses, but Danielle is particularly gifted as a rider. She had a series of horses that she showed. When we selected CH Cookie Cutter from Ellen Davis and Michele Macfarlane for her, it was a perfect match. They won more than they lost in Junior Exhibitor Five-Gaited classes and Five-Gaited Pleasure classes. The Glicks have been loyal customers and good friends for many years now. Doug started showing with me on Bart Simpson, winning a few Pleasure classes. Since then he has enjoyed tremendous success with WCC CH Fiasco, first in Three-Gaited Country Pleasure, then in Pleasure Driving and now in Western Pleasure classes." Since they began showing in the Western division, Doug and Fiasco have accumulated an enviable show record, crowned by their consecutive 2006 and 2007 Louisville victories, being named the first Western Country Pleasure World's Champion of Champions. Fiasco has been a USEF National Horse of the Year and UPHA Horse of The Year twice. Carolyn has had several successful show horses over the past several years. She won a lot with CH Rage and CH Mystery Rain in Fine Harness, CH Policy Maker in Country Pleasure Driving, and her energetic little three-gaited horse, Proud Dancer. Many of the horses we have purchased for the Glicks have come from Scripps Miramar Ranch. I enjoy doing business with Michele, because she is fair and always represents a horse truthfully. I've selected many horses there, which have gone on to do very well, not only for the Glicks, but for many other clients, as well."
Michael is very successful with western Saddlebreds. Phoebe Von Migula's outstanding Happy Days Again and CH Snow Summit were champions at every West Coast show. Summit was named national USEF Horse of the Year. Michele Macfarlane's CH Gold Kryptonite was another big winner that was a national USEF Horse of the Year. Others western winners were Jeannie Matsui's The Handsome Devil, Jerry Real's Starheart's Twilight Time and Pam Mare's Sentimental Sadie. Both Happy Days Again and Jemedar were selected from Michael by the Tom Pettry family of Royal Scot Stables and went on to win national championships.
Another was Dianne Jackson's Brett Maverick. "Dianne and Brett were a very successful team. Brett moved with me to Diamond Hills and went on with his new owner, Jennifer Loomis, to many wins on the West Coast. They also won a class at St. Louis in 2000 and were high up in the ribbons in the Shatner Finals." Brett is now trained by Tim and Roxanne Lockard for Shari Eades and has been a big winner in the mid-west.
Jennifer also had a nice gaited horse with Michael at Diamond Hills, The Last Temptation. They won many championships on the West Coast for two seasons and took a huge fourth place at Louisville. Ali Loomis had a successful brief career in the Walk-Trot division, first with her cute little gelding, Marin County, and then with her fancy Shamrock's Jessica.
Decoy is another of the nice western pleasure horses Michael has trained. "I purchased him originally for Phoebe Von Migula for a fun horse, to ride around the park and show at the shows at the equestrian center, but they were equally successful at the larger shows. When I moved north, Jeff Loomis wanted a horse to show, and Decoy seemed like the right one. Jeff tired of showing fairly quickly and that is when Kevin Michael bought him." Kevin showed Decoy to many blues and championships on the West Coast and was reserve in 1999 at St. Louis in the Shatner Finals and in 2000 won the Working Western Pleasure Finals. They won the Gentlemen's Class there both years.
Michael started Perfect Adventure specifically for the western division. "He's a beautiful horse, but had very little talent or motion. We started showing him as a three-year-old in the western division with immediate success." One of the early shows we took him to was an open all-breed show. He had only shown once previously. Meghan Hill showed him in the junior (5 and under) class in a curb bit. The judge, a prominent quarter horse trainer, asked Meghan in the line up if the horse really was a junior horse or if she had mistakenly ridden in the wrong class. She replied that he was just coming four. They won that class, and the stock seat equitation class that day, too! Meghan, her mother and Kevin Michael all showed Perfect Adventure with much success with wins at Del Mar, Woodside, Carousel and St. Louis.
In 1997, Elisabeth Goth asked Michael to help her with her project to present horses at the Winter Olympics closing ceremony in Nagano, Japan. That required a move to San Diego. He moved his training business to the Rancho Bernardo Riding Club, working there in the early morning, then going to Scripps Miramar Ranch to assist Elisabeth and Michele Macfarlane with the Japan horses. "It was an experience of a lifetime, and I will always be grateful to Elisabeth and Michele for the opportunity."
It was during this time that Doug and Janine Hill sent their daughter, Meghan, for equitation lessons. It was apparent to Michael immediately that Meghan had a gift. She wanted to ride equitation seriously, and her parents were willing to go that route. "We selected Light Brite (Neon) as her first equitation horse. He was the kind of horse that you wish you had a barn full of. The two made a memorable team and as an 11-year-old, Meghan won every championship on the West Coast and qualified for all the finals. They were third in the 11-year-old Equitation class at Louisville that year, with a first place vote from one of the judges."
About this time, the Hills were going through staff changes at their new ranch in Livermore. "They offered me the job, which I took. I was there for eight years until Janine decided to change her business plan with Diamond Hills and leave the Saddlebred business. The Hills were very supportive of both of their children, Meghan and Jared, offering them many opportunities with the horses. When Jared showed an interest in showing, it was decided that Neon would be the ideal horse to get him started." Jared won many, many classes on the West Coast with Neon and went on to Louisville in 2000 to the World Championship in the 9-year-old walk-trot equitation class.
In 2001, he showed Julia Chen's horse, CH Callaway's Publicist, to win the 10-and-Under Saddle Seat Equitation class at Louisville and was reserve in the 11-and-Under Three-Gaited Show Pleasure class. Jared showed Call My Agent in 2002. With several wins in California, he was the reserve World's Champion in the 11-Year-Old Equitation class. Jared continued with Pasta in Equitation. "He really clicked with that mare and won championships at every California show and took another Reserve World's Championship.
CH Preferred Prince was shown by Meghan in Equitation to many West Coast Championships, triple qualified for three years, three reserve World's Championships, all with a first place vote in Saddle Seat Equitation. Meghan also showed the impressive A Pat Hand in Junior Exhibitor Three-Gaited and Saddle Seat Equitation
CH Kissinger won many championships in Junior Exhibitor Three-Gaited Show Pleasure with Meghan and they were Reserve World's Champion in 1998. Kissinger went on to win many pleasure driving events for Millie Le Boff and trainer Ricky Harris before his untimely death.
My Special Sultan was Reserve World's Champion Junior Exhibitor Pleasure Driving horse with Crystal Harmon in 1999 and won Fine Harness Championships with Janine Hill all over the West. "He was the World's Champion Three-Gaited Show Pleasure Horse, riders 12-13 with Meghan in 2000. He also took the bronze medal in the ASHAF Youth Fine Harness Challenge at Louisville with Meghan driving in 2001 and was then the California State Three-Gaited Show Pleasure Horse Champion at Pomona. Theresa Vondershmitt bought him and showed him successfully for a time, and he has gone on to win many pleasure classes for subsequent owners.
Meghan and Jared also had a huge amount of success with their hard knocking gaited horse, The Irish Ember. They won lots of blues and championships for five seasons at all the shows including Monterey, Woodside, Del Mar, and Santa Barbara, CA Futurity, etc.
Terry and Susan Valley Chen of Alamo, CA have been with Michael since he moved to Diamond Hills. Sue showed her mare, CH Grande Dam, to many wins in the Three-Gaited Show Pleasure division. She and Julia now show the brilliant CH Like Sunshine in the Amateur Three-Gaited division., whom they aquired as a three-year old. Both have won everywhere on her and besides the many classes and championships they've won, CH Like Sunshine has been the USEF Horse of the Year in her division four times. "Julia Chen has been a phenomenal student." She showed CH Private Benjamin to many, many walk-trot wins out here. She won her class at Shelbyville in 2000 and went on to Louisville to win the 8-and-under World's Grand Championship. She spent the next two seasons showing Shamrock's Jessica and then CH Callaway's Publicist to win just about all of her classes in West Coast shows. While Publicist was sidelined, she catch rode Laura Byrd's horse, LA Blues, trained by Liz McBride Jones, at Louisville in 2002. It was a thrilling ride for Julia and she had a first place vote from one of the judges. Julia went on to show the magnificent Magic March in Junior Exhibitor Three-Gaited Show Pleasure and has won championships at Monterey, Woodside, Del Mar, California Futurity, Santa Barbara and other shows. Susan also showed a Lem Barry's mare, Sisheido, to an undefeated season in the Hunter Country Pleasure division.

"I can't say enough about the great job Michael has done for us. He really does go the extra mile. Even with the inevitable ups and downs of showing horses the one thing that never changes is that Michael always gives his best effort, really cares and puts his heart into the whole process. He is there with the high points and the low. Michael has always been honest and fair with us in all our horse dealings, and it is nice to have someone you trust when it comes to feeling your way around the horse business. I think his forte is with the kids. Michael teaches all his riders to push themselves and strive for the best that they and their horse can achieve. Behind it all, he is very supportive, and the kids appreciate that. His combination of being demanding but supportive has really helped them excel as is evident by their success at all levels of competition." -Susan Valley Chen
I think his forte is with the kids. Michael teaches all his riders to push themselves and strive for the best that they and their horse can achieve. Behind it all, he is very supportive, and the kids appreciate that. His combination of being demanding but supportive has really helped them excel as is evident by their success at all levels of competition."
Merv and Sally Spalding of Grant's Pass, Oregon also joined Michael while he was working at Diamond Hills. They've been major Saddlebred exhibitors in the west for many years and formerly owned the show stable, Dunmurray Farm.
Sally showed her noted CH Superfine's Hobo to many blues up and down the coast in amateur fine harness classes after joining the Diamond Hills team. When the Spaldings decided it was time for a new harness horse for Sally, Michael chose the magnificent bay horse No Jacket Required. Hobo went on to win a number of Three-Gaited Pleasure Championships for Kevin Michael. Sally and No Jacket Required have won more than they've lost in the amateur harness division since.

"My husband Merve and I have had the best times of our horse show life (over 35 years) since we have been with Michael. He has a terrific eye for a horse to suit the amateur and is wonderful with kids - - and one old lady that he has to put up with. His favorite instruction to me is 'slow down!' I find it more fun to go faster but not as successful."
-Sally Spalding
Another successful association Michael had while in Livermore was with Art and Cathy Sauer of Sunrise Hill Farm, Inc., San Jose, California. The Sauers had always kept their home-raised mare, Bobbie's Gambling Streak, at Diamond Hills. Says Michael, "We started Streak's colt, CH Doubletrees Doubletake there at Diamond Hills. As a weanling he won the Northwest Futurity Colt Class and Championship. I showed him a few times in fine harness, and then Cathy started showing him in three-gaited show pleasure as a 4-year-old. They did very well for two seasons under saddle, then made the switch to pleasure driving, which was the perfect niche. They enjoyed many wins and a Pacific Coast Circuit Championship.
Other customers with Michael at Diamond Hills included Janet Homberg of Livermore, Phoebe Von Migula of La Canada, Candy Dowdy of Santa Rosa, Judy Fergusson of San Rafael and Sarah Hudson of Pleasanton and her daughter, Haley who had a very successful run in the 10 and under equitation classes, and Grace Solada who catch rode a few of Michael's clients horses.
Moving to Fresno, CA in 2008, Michael Craghead Stables is presently located at Rainwater Farm, north of the city. Michael's longtime clients, The Michael Glick Family and Merv and Sally Spalding have joined in the move, and other clients include or have included Alfreda Sebasto, Lynnda and Jeff Martin, Theresa Sebasto, The Gary Eritzian Family, Michele and Kelli Ganci, Linda Kane and Shari Rainwater.
Beside his phenomenal success as a horse trainer, Michael is a sought after USEF licensed judge, holding a "R" card in the Saddlebred, Hackney, Roadster and Saddle Seat Equitation Divisions. He also sits on USEF's Saddle Seat Equitation rules committee and is on the board of directors of the United Professional Horseman's Association and a UPHA Saddle Seat Equitation committee member. The list of shows he has judged is impressive, to include: The World's Championship Horse Show at the Kentucky State Fair, Lexington Junior League, Morgan Grand National and World Championship, The American Royal, Blue Ridge Classic, Asheville, NC, St. Louis National Charity, All American Horse Classic, Madison Classic, ASAW Summer Show, ASHAV Horse Show, Lexington, VA, UPHA Chapter 14 Spring Premiere, W. Springfield, MA, UPHA Chapter 2, Salem, OR, UPHA Chapter 5, Columbia, MO, Missouri Spring Kickoff, Columbia, MO, National Academy Championship Show, Priceville, AL, National Pleasure Horse Championship Show and Pleasure Equitation Olympics, Nebraska Charity, Oktoberfest, W. Springfield, MA, Queen City Charity, Denver, CO, Tanbark Horse Show, St. Paul, MN, TASHA Holiday Show, Katy, TX, Tom Bass Classic, Columbia, MO, Summer Spectacular, Cedar Rapids, IA, Longview Charity, Lees Summit, MO, California Spring Kickoff, Burbank, CA, CPHA Fall Show, Del Mar, CA, Merry Go Round, Scottsdale, AZ, Seaside Horse Show, Ventura, CA, Illinois State Fair, New Mexico State Fair, Wisconsin Futurity and Horse Festival, Rainbow Royal, Burbank, CA, Mid America Mane Event Show and NHS Good Hands National Finals, Springfield, IL, Germantown Charity, Central States Benefit, Prairie State Classic, World Cup Invitational Saddle Seat Event and the World Cup Trials.
When asked about his most memorable moments, Michael replied, "I'm not sure there have been just one or two memorable events. I'm always thrilled when my students and clients do well or make progress with a horse. Naturally, the kids' wins at Louisville are memorable, but I have had so many clients and students who have done well on the regional level, that is just as satisfying."